We are Swissnex
Click on the map and explore our locations:
More than ever, our future depends on our capacity to inspire each other beyond traditional boundaries and collectively forge new paths ahead.
2020 was an eventful year for all of us. The challenges we faced by the COVID-19 pandemic were significant and forced us to think on our feet. Swissnex proved to have an "out of the box" mindset, and showed great commitment and creativity to tackle those challenges successfully. Together with the respective partners, Swissnex quickly found pragmatic solutions for a broad set of questions.
2020 was also the year of the twentieth anniversary of Swissnex:
I am proud of the outcomes of the last 20 years and excited about the potential of the next decades. Being a network at the forefront of tomorrow's trends in Education, Research and Innovation also means that Swissnex must continuously reinvent itself to stay relevant. That is why the Federal Council designated Swissnex as an important part of Switzerland's international strategy for education, research and innovation. A network, which helps to ensure that Switzerland continues to occupy a leading position in many areas on a global level.
Dear friends and partners of Swissnex: Swissnex wouldn't be where it is today without you – thank you for your support!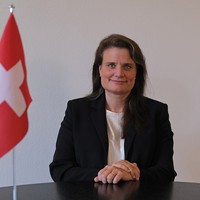 Martina Hirayama
State Secretary for Education, Research and Innovation
Swissnex is the global network connecting Switzerland and the world in education, research, and innovation. Our mission is to support the outreach and active engagement of our partners in the international exchange of knowledge, ideas and talent. The five main Swissnex locations are established in the world's most innovative regions. Together with around twenty Science Offices and Counselors based in Swiss Embassies, they contribute to strengthen Switzerland's profile as a world-leading innovation hotspot.
The core value of Swissnex consists of:
Connecting its partners to thriving innovation ecosystems worldwide,
Advising on trends and opportunities in education, research, and innovation,
Promoting the visibility of Swiss higher education and research institutions, start-ups and other innovation-driven partner organizations.
Inspiring new ideas by promoting knowledge exchange.
Swissnex is an initiative of the State Secretariat for Education, Research and Innovation and is part of the Confederation's network abroad managed by the Federal Department of Foreign Affairs. The Swissnex activities are based on a collaborative approach, relying on public and private partnerships and funding.
Participants at Swissnex events
43,539
Participating start-ups in internationalization camps
53
Supported start-ups through services
183
Swiss partners
189
Costs of Swissnex
The overall costs in 2020 amounted to CHF 11.00m and covered all expenses of Swissnex, including the Swissnex locations, the Science Counselors and Offices and projects & operations at the Swissnex Headquarters*, housed within the State Secretariat for Education, Research and Innovation (SERI). These expenses are either funded by SERI, or by public or private partners. The overall costs include all expenses such as for operations, salaries, infrastructure, IT and projects, including in-kind services. The salary costs of the 10 (mostly part-time) Science Counselors funded by the Federal Department of Foreign Affairs are not included here.
* This includes network-wide initiatives such as the participation of Swissnex at the House of Switzerland at the 2020 Olympics, the evaluation of the swissnex Network, the nex20 anniversary campaign, and expenses for infrastructure, housing, etc.
Funding of Swissnex locations
In 2020, the total costs of the five Swissnex locations and their outposts amounted to CHF 8.79m. SERI provided the Swissnex locations with a funding of CHF 5.79m. In addition, public and private partners supported and co-funded the Swissnex activities with CHF 3.00m.
# of unique page views
344,516
# of page views longer than 3 minutes
118,201
Swissnex newsletter subscribers
31,127
# of Facebook followers
30,220
# of Twitter followers
25,866
# of LinkedIn followers
24,302
Show all highlights