nexHack Edtech: Defining #LearningTomorrow
During a 48-hour global hackathon from 6-8 November, nexHack Edtech brought together 130 hackers from 45 nationalities to hack two challenges facing international education today. Organised by swissnex India and Boston, in partnership with Movetia, the Swiss national agency for mobility and cooperation, the event aimed at uncovering solutions to real-world challenges in international education.
At the 100% online event, participants collaborated across time zones and cultures using a variety of digital tools like Slack, Zoom, Google Workspace, Whatsapp, and Remo. Many drew on their own personal and professional experiences working and studying abroad, and targeted their solutions at the current pain points of international students and digital learning.
While building their prototypes and business plans, the hackers also attended a full programme of events intended to support their ideation, including workshops on design thinking, video creation, and pitching, yoga, and networking. 12 mentors coming from diverse tech, education, and entrepreneurship backgrounds coached the hackers throughout the weekend.
By Sunday evening, 23 final projects were pitched to the jury in pre-recorded 3-minute videos. Jury members were tasked with ranking the projects in four categories: Innovation, Business Value, Prototype & Scalability, and Diversity & Inclusion.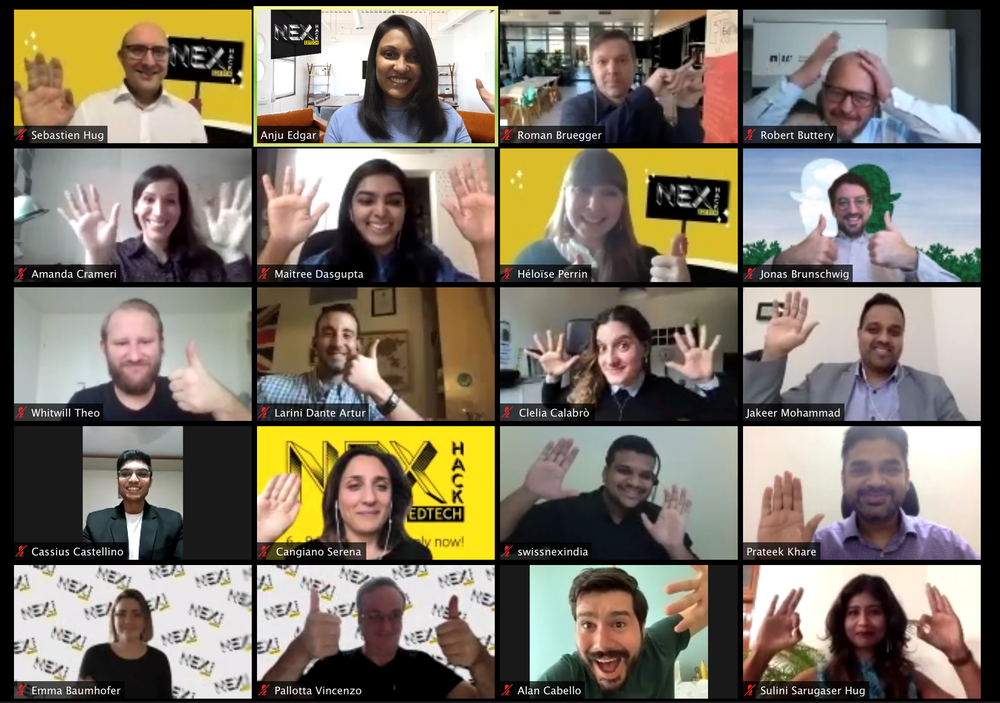 After much deliberation, 5 finalist teams were brought onto the virtual stage and the grand prize winner was announced. Finalist teams received a Design Thinking Toolkit book and the members of the winning team each received a CHF 1000 voucher for a winter/summer school course (including online courses) from a Swiss university of their choice.
On top of these exciting prizes, Movetia is inviting the best projects to continue their work by providing the opportunity to apply for seed funding up to CHF 15,000. Movetia will also provide these teams coaching and support and will match them with institutions and resources to further develop their projects.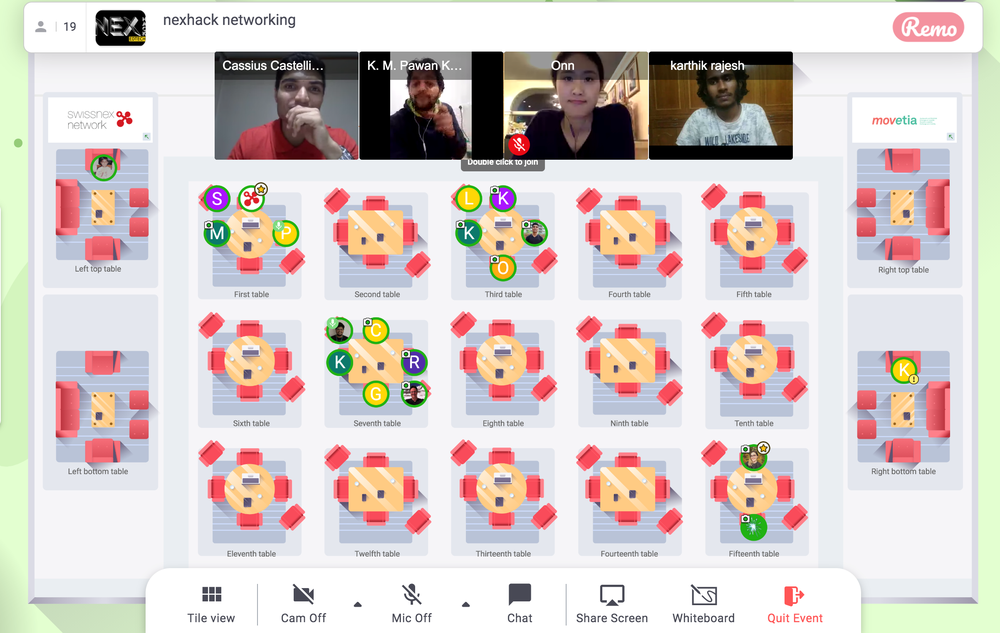 As an outpost of the Swiss State Secretariat for Education Research and Innovation (SERI), the swissnex Network is invested in reinventing the future of learning. Now, more than ever, international education and collaboration plays a crucial role in preparing the next generation for an increasingly globalised world. Developments such as climate change and the COVID-19 crisis, have, for now, reduced chances for mobility, and yet, leveraging digitization during these times increases accessibility to collaboration across geographies, presenting an opportunity to imagine and create new avenues for international education and collaboration.
swissnex and Movetia are delighted with the results of the first nexHack Edtech digital hackathon and are happy to present the winners of the event:
The nexHack challenges
Connecting the Local & the Global
International students arriving in Switzerland face several challenges, such as high cost of living, language barriers, finding affordable accommodation, and a social network.
Propose a digital solution that helps integrate international students to connect with Swiss society and to create impactful intercultural exchange (for locals and internationals)
International digital learning spaces
Digitalisation helps crossing borders without physical travel and is extending and broadening the learning environment. Virtual cooperation and mobility can make international education more inclusive, but certain risks and barriers have to be mitigated.
Propose a digital solution that considers how virtual cooperation and mobility contribute to creating high-quality learning experiences based on international interaction and exchange.
The nexHack winners
Hearty congratulations to the winning teams and all of the hackers and mentors who participated in the challenging weekend.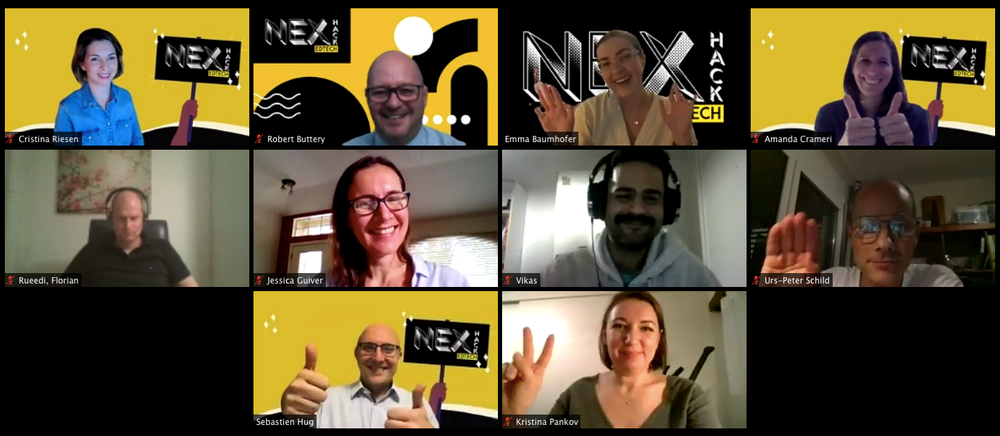 1st place: GLocal EduHackers
Project: MySwissBot
MySwissBot is an AI enabled chatbot whose responses are powered by the authentic student voice.
Congratulations Jessica, Kristina, Urs-Peter, and Vikas!
---
2nd Place: Hack4E+
Project: Shuffle
Shuffle is an innovative app encouraging intercultural exchanges between local and international students and fostering engagement around a common purpose.
Congratulations Dana, Lucas, Yann Yasser, Anoushka, and Kathrin!
---
3rd place: LernEd
Project: LernEd
LernEd is an open platform to bring high school and university students together to solve real world problems. The platform promotes open learning, collaboration and exchange of ideas helping students develop practical as well as soft skills that are overlooked in many schools.
Congratulations Tanuj, Bidhi, Jeronimo, and Rhea!
---
4th place: tie between The Global Llamas and Learning is Key
Project: The Global Llama
The Global Llama is a platform to upskill today's youth through immersive virtual experiences in sustainability in their domain.
Congratulations Ankit, Srushti, Wejdane Ben, Tanushree, and Yashvardhan!
Project: Intern-X
Mobility Network for Cross-Country Interns
Congratulations Ceynur, Sachin, and Alexandra
---
Testimonials
"Great organisation for a very interesting hackathon. Thanks again to the whole nexHack 2020 team, movetia and swissnex, it was a pleasure to work for 3 long days with a very diverse team on our edtech solution, and proud that we reached the 2nd position." Dana Mozaffari, Hack4E+
"A huge THANK YOU to all of the swissnex team and partners who organized the event. It was a great experience and well-done!" Jessica Guiver – Team GLocal EduHackers
"#nexHack, My first virtual #hackathon did not disappoint! Virtual co-ordination between 10+ hour time differences is not easy, but the team at swissnex India, Consulate General of Switzerland, swissnex Boston did a fab job of putting together this event, and while I am excited to say our team's project ranked in the top 5 and can explore funding with Movetia – Austausch und Mobilität, I really value the connections I made during this hackathon and look forward to more fruitful hacks and collaborations with this new network!" Ankit B, The Happy Llamas (4th Place)
"Thanks to all organizers for the awesome setup, mentors for the great support, my team @Alexandra @Sachin who was the best team to work with at a virtual hackathon, and all the participants for the great work, congrats!" Ceynur – Team Learning is Key
"Massive compliments to the team that has put this event together! fabulous stuff. Your idea and its execution have been really great." Joti Joseph – Team Swagat
Nov 11, 2020 by Team Swissnex