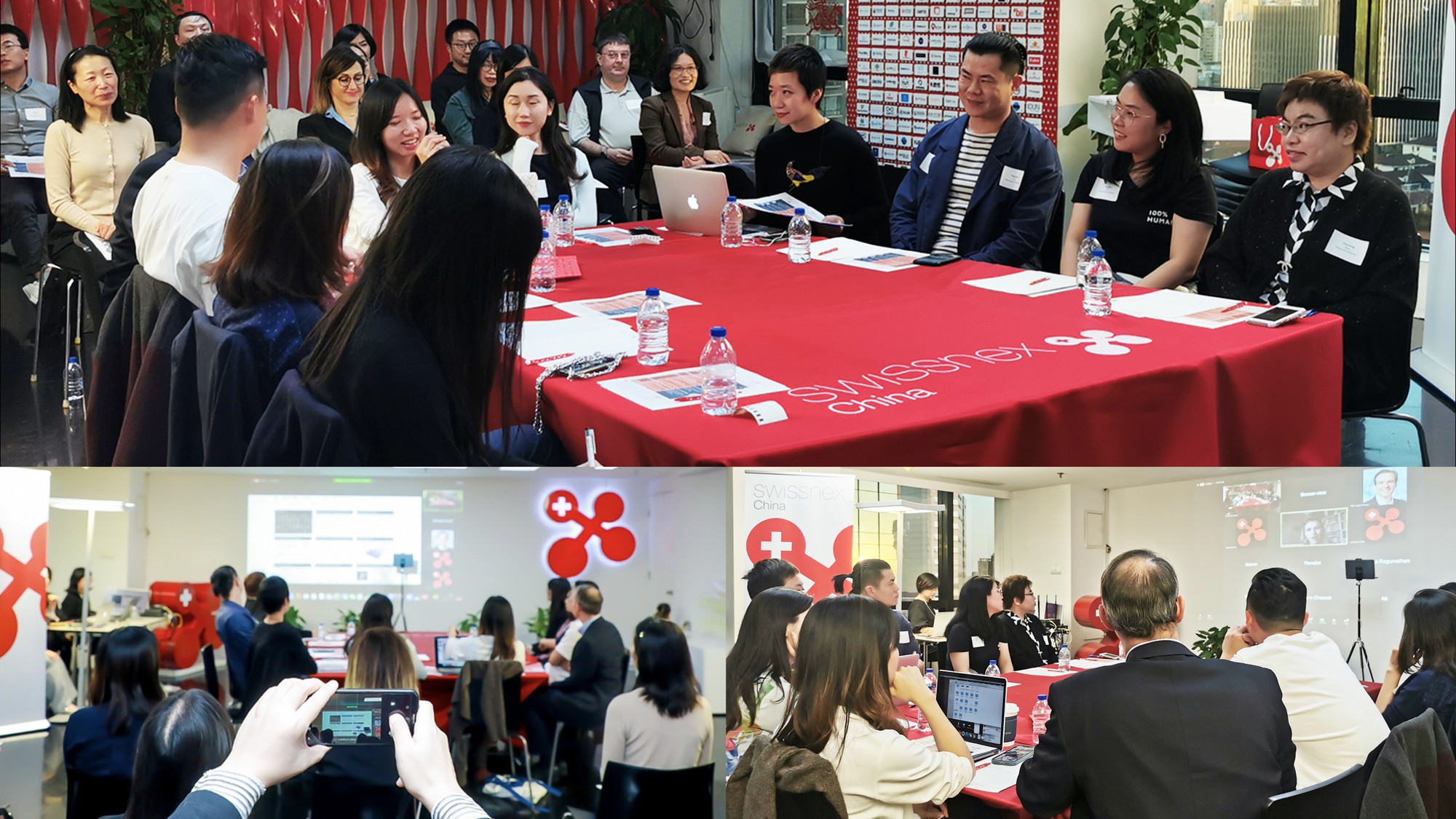 swissnex as International Ambassador at the Swiss Digital Days 2020
This year's Swiss Digital Days, held between 1st and 3 November, was special for many reasons. The main suspect is the current pandemic situation, forcing it to be mainly online. However, something else was a novelty for this edition. An international Ambassador was chosen to showcase the links between Switzerland and the world in the various fields of digitalisation: The swissnex Network.
swissnex was able to set up a virtual window into our network abroad thanks to 5 events, hybrid in Shanghai and virtually in all other participating locations, organised throughout the globe, from San Francisco to Japan, involving more than 200 participants.
The variety of the events themselves was a common learning experience, helping the Network to develop and test digital solutions aimed at connecting the dots online. The event format, named tell, is designed to foster a discussion in a big group about a common theme. The group is then split into three focus groups, each answering questions about hopes, fears and actions to take. We held our tells online, with the exception of swissnex China who managed to create a hybrid event, linking a live audience hosted at their offices in Shanghai with online attendees back home.
swissnex Boston and San Francisco further steepened up the digital learning curve by setting up a digital platform made up of multiple tables which allowed people to network virtually. The floor plan was specifically designed to look like the offices of swissnex Boston.
The 5 events set up throughout the world were the following:
#LivingTomorrow: Smart solutions for community-dwelling older persons
Science and Technology office Tokyo, Embassy of Switzerland in Japan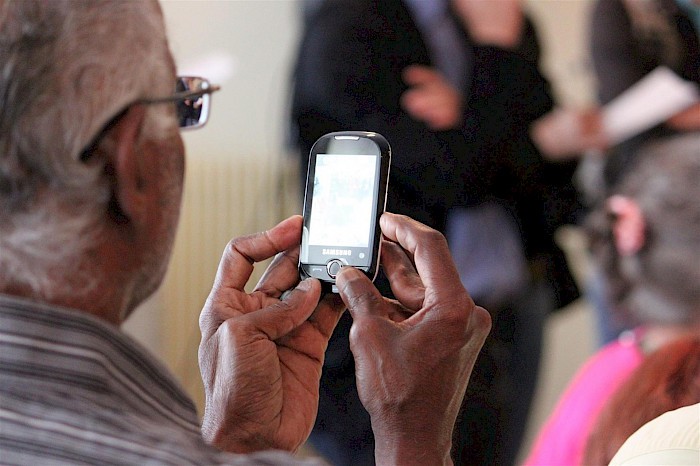 This tell event hosted experts from the Bern University of Applied Sciences and the Nara Institute of Science and Technology, Japan. Building on existing links between both institutions, this session set up a platform to discuss how modern technology solutions can promote and enable active, safe, and healthy lifestyles for older individuals and at the same time strengthen existing services and community initiatives.
Innovations in mobility services, remote health, safety offerings as well as interconnected care setups were discussed. During these exchanges, the speakers and participating audience were able to identify overarching themes. One of which was the intersection between technology and values associated to humanity. Indeed, as Professor Haller (one of the speakers) highlighted: "monitoring the parameters of a person in need without involving their relatives and neighbours is useless". Furthermore, the ethical side of these technologies was emphasised, as consent from older people in the use of their data is paramount.
In summary, cutting edge technology is emerging from Switzerland and Japan, some of which being developed jointly. This tell event revealed how essential the social and ethical implications are for their deployment, an important lesson for other themes linked to digitalisation.
---
#LivingTomorrow: FoodTech - How will we eat in the future?
swissnex Brazil & Science and Technology office Seoul, Swiss Embassy in South Korea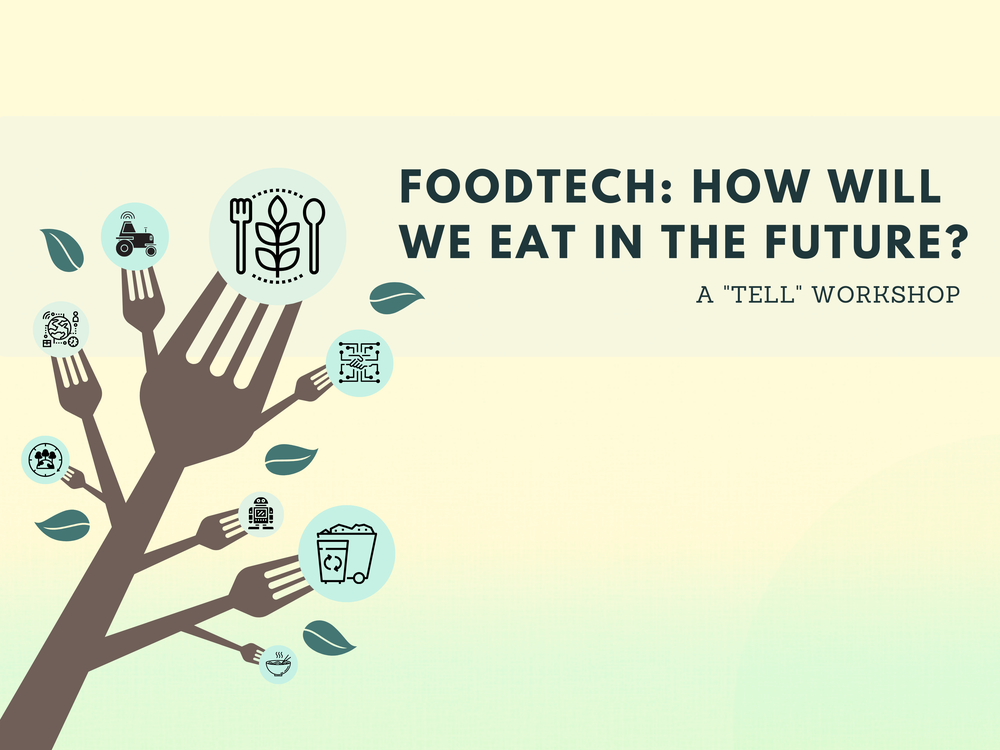 This tell event was a joint venture between swissnex Brazil and the Science and Technology office Seoul. Specialists from both countries and Switzerland were able to discuss issues related to FoodTech and identify best-practices in Brazil, Korea and Switzerland.
The theme of this tell event was the future of food from the viewpoint of new technological frontiers, digitalisation and the environmental challenges that drive the development of new technologies in the digital and biotechnological fields. To dive into this theme and offer participants the opportunity to observe the paths that open up for the future of food, three key topics were highlighted:
Agriculture Systems & Food
Technology & Food (alternative foods and new foods)
Food Waste
Each breakout group discussed the current status and main challenges of each topic, new technologies and model breakthroughs. At the end of each session, the outcomes were set into a broad overview of the whole food and agriculture production, distribution and consumption chain. These exchanges allowed researchers, entrepreneurs and members of the public sector to share their experiences and views, paving the way for new international links with Switzerland to emerge.
---
#LearningTomorrow: Creating digital learning spaces – Do's and Don'ts: Insights from India
swissnex India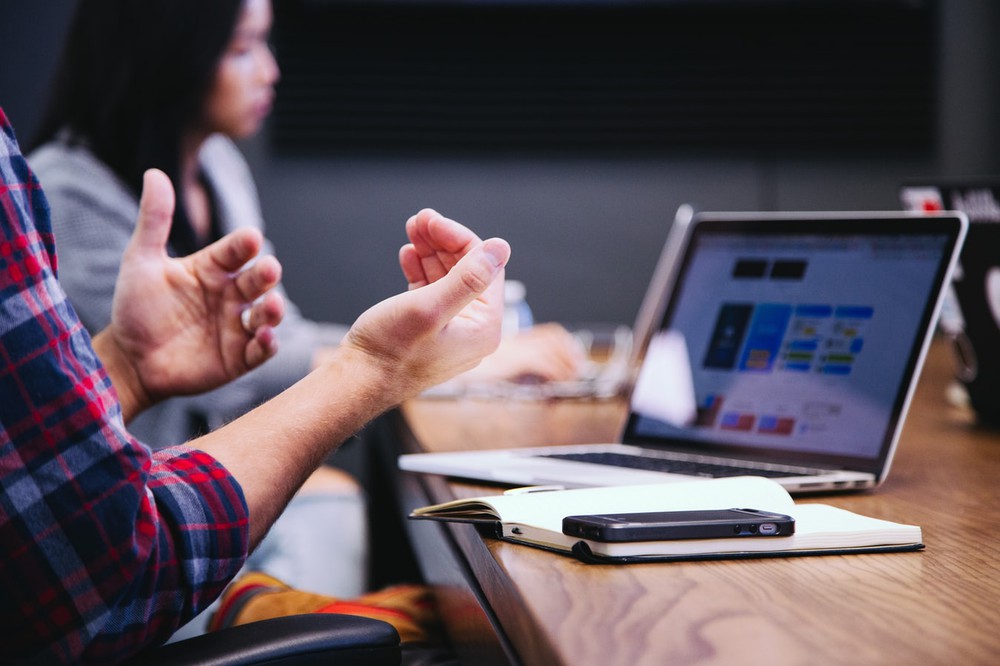 When the COVID-19 pandemic hit the world, learning spaces were radically disrupted. In many cases, they were replaced by virtual learning worlds. By focusing on this theme, swissnex India organised a session where experts and practitioners from India shared how they are designing virtual learning spaces in a way that do not simply replicate the physical world, but also take into consideration its limitations and leverage new possibilities.
How does one launch an online university specialised in Artificial Intelligence with the best AI professors worldwide? How do you help professionals and organisations to upskill through virtual learning formats? And how does a primary school, which is physically closed since March due to COVID-19, create a suitable digital learning experience for its students? These were some of the questions asked during this webinar. These lessons from India were listened to by a Swiss audience who demonstrated curiosity and interest in them.
This interactive and international webinar, organised by swissnex India. Was part of their EdTech week, during which they organise the nexHack Edtech 2020 (more about this activity in another article of nex20.ch)
---
#WorkingTomorrow: The Future of Work: AI shifts in Critical Skills
swissnex China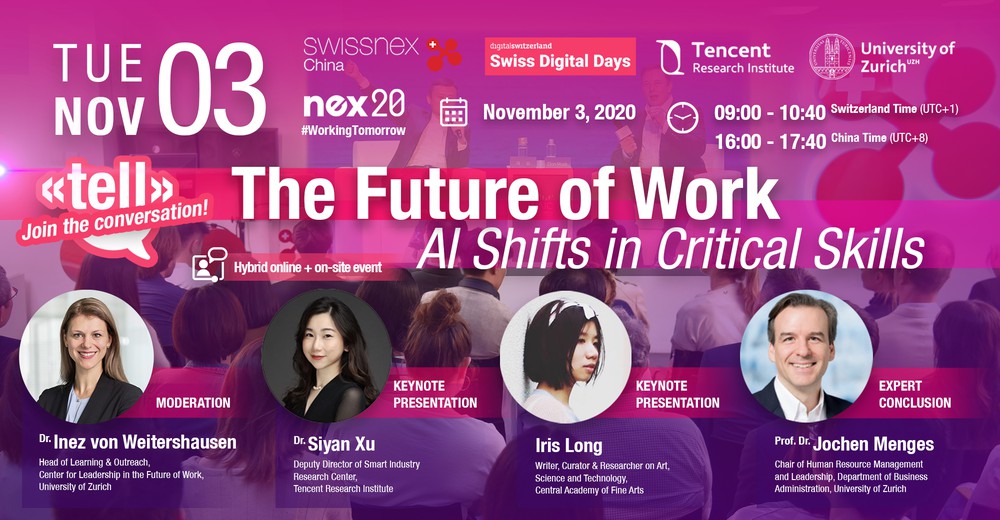 This hybrid tell event had three onsite and online discussion rounds linking a live audience hosted at the offices of swissnex China in Shanghai with online attendees in Switzerland.
Two experts helped dissect the underlying context and global issues discussed during this far-reaching debate while sharing their further insights on How AI will power the Future of Work and Keeping the future of work human.
During the three rounds of discussions, the audience was invited to share their ideas, observations and questions, while delving deeper into the challenges and opportunities presented by the rise of Artificial Intelligence, the consequences for the future of work and the implications for the future of education and re-skilling in the context of Industrial 4.0.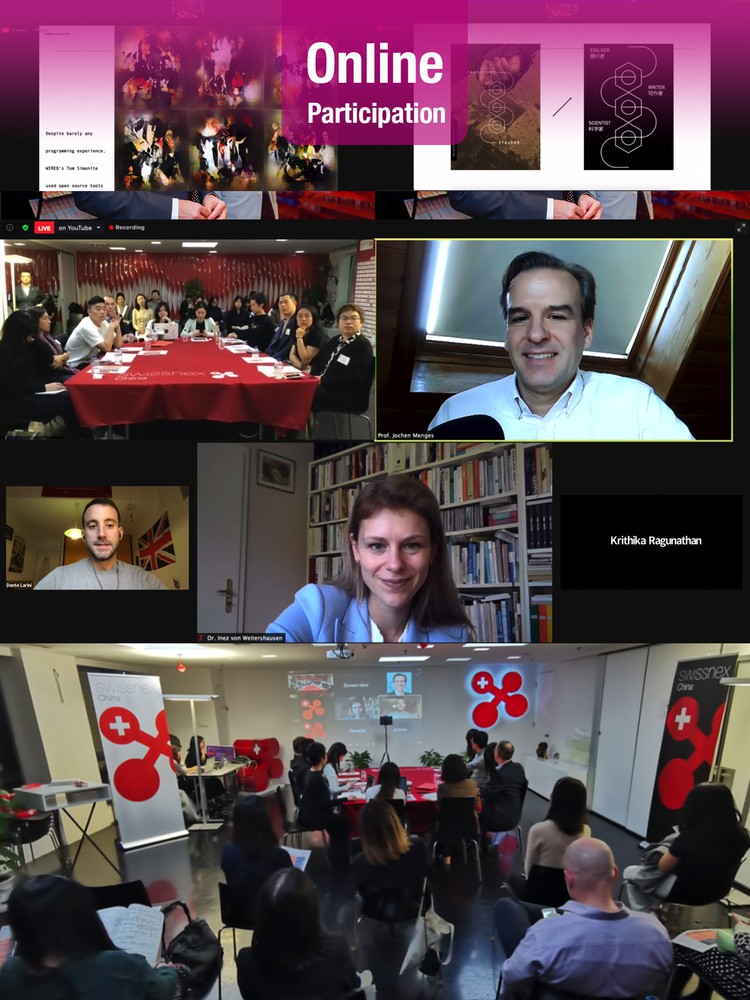 The event benefited from the expert conclusions done by Prof. Jochen Menges of the University of Zurich. What struck him was how strong values of humanity emerged from this discussion, sharing hopes and fears and how we all shared a joint destiny in relation to the future of work, in Switzerland, China and the whole world.
A further point that emerged was how the rise of AI will require us to invest further efforts to upskill ourselves and learn how to learn. Ironically, while facing the future of work and the technologies involved, a key takeaway from this session is that investing time to perfection human skills such as communication, empathy and creativity is of the upmost importance, perhaps more so than technological skills, according to various research in China and Switzerland.
In his concluding remarks about the tell event, Professor Menges emphasised that the future has not arrived yet, and that we can still define it together. This exchange between China and Switzerland was a good example of how we can start doing so, by sharing concerns and knowledge. Starting this endeavour now is capital. This is a topic which I set to remain with us for some time, and therefore with the activities of swissnex to seek new partnerships abroad.
#ConnectingTomorrow: Why Switzerland needs the World: Global Dimensions of Digital Innovation
swissnex Boston & swissnex San Francisco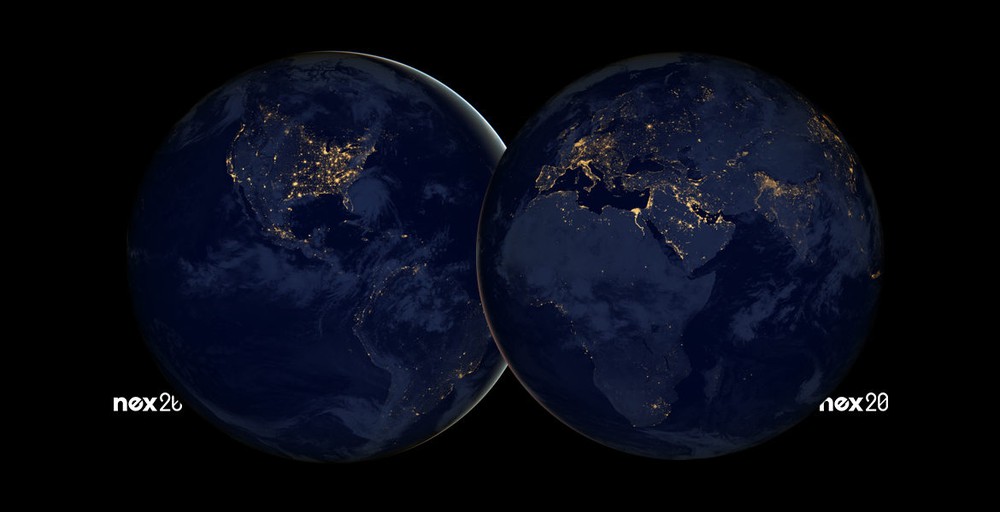 The last event of our series at the Swiss Digital Days was organised jointly by swissnex Boston and swissnex San Francisco. On seven virtual tables with up to five participants, innovation leaders from SwissRe, Swiss Post, SBB, as well as the swissnex Network discussed the importance of connecting with the world's innovation hubs like San Francisco or Boston to future proof businesses and ecosystems.
Participants from Switzerland and the US got a chance to learn about the three leading Swiss corporates' digitalisation strategies, why and how they engage in international open innovation. In their role as multipliers and trend scouts, leaders from the swissnex offices in Boston and San Francisco responded to questions about the future role of the US science and innovation ecosystem for global (and Swiss) innovation, highlighting the importance of engaging over the long term and building relationships.
---
Conclusion
These 5 events taking place throughout the world were a learning curve for the three stakeholders involved.
The audience was able to gain insights into how swissnex is able to connect the dots between Switzerland and abroad with regards to education, research and innovation, leading to fostering the creation of valuable international relation and exchange of ideas.
The participating locations made the most of it by mastering new formats, crucial for their strategies of virtual outreach.
And finally, digitalswitzerland, who has the mission of making Switzerland a leading digital innovation hub, benefited from the expertise of our network by benefiting from an international perspective on a rich tapestry of themes linked to the 4th industrial revolution.
Our participation was a cornerstone of the 20th anniversary campaign of the swissnex Network, nex20 #ConnectingTomorrow. On this occasion, we were proud to bring an international perspective to the Swiss Digital Days and also create awareness about the event abroad.
The human and planetary challenges ahead of us will require a burst of creativity and innovation. More than ever, our future depends on our capacity to inspire each other beyond traditional boundaries and collectively forge new paths ahead. Swiss education, research, and innovation must step up to the mark. We therefore believe that our involvement at the Swiss Digital Days was one of the many steps towards defining the role of Switzerland on the global stage in 2040.
Nov 19, 2020 by Team Swissnex